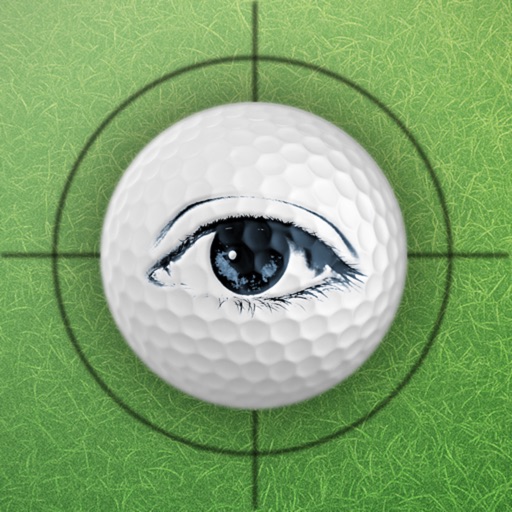 THE FIRST AND ONLY GOLF APP TO USE THE LATEST APPLE EYE TRACKING TECHNOLOGY!
IMPROVE YOUR PUTTING IN LESS THAN ONE MINUTE USING THIS SIMPLE FIX!
iOver Golf – The First Step to a Great Putt.
IMPORTANT: App Requires Front Facing Camera for Eye Tracking and is NOT compatible with iPhone 3GS.
The iOver Golf App will help you putt your golf ball on your intended line.
Here's the reality:
You can make a perfect putting stroke, but if you are off line by a small margin, you will miss the putt.
You can make a very imperfect stroke, but if you have it on line, you much more likely to make the putt.
"Putting mechanics are mostly a matter of preference, but there is one universal rule for putts from six feet and in: Eyes over the ball…you'll see the line better. Come to think of it, it's a good rule for all putts."
– Dave Stockton
"Second, your eyes should be over the ball. The most important part of 'over the ball' is what I call 'down the line, over the ball.' It may be a little behind the ball which is the way I putt so that I can see the line. Or, what is probably preferable, and a way I wish I could've putt, is my eyes directly over the ball."
– Jack Nicklaus
Most golfers have heard that to make a good putt they have to have their eyes over the ball. Having a good putting stroke is important and you should work on your tempo, putter path, etc. These lessons, tools and analysis can cost hundreds of dollars.
With the iOver Golf App you will use the latest in iSight technology from Apple to align your eyes directly over the golf ball.
Simply place the iPhone on the ground and align your putter head to the side of the iPhone. Look down at your iPhone as if it is your golf ball and the iPhone will adjust your position until your eyes are directly over the ball. It is that simple.
The iOver Golf app can be used:
– At the course, on the practice putting green, before you play to check your eye position.
– At the office, during your breaks, to practice good eye position.
– At home, in your living room.
– Anywhere you have your iPhone!
Advantages of the iOver Golf app:
– Everyone has their iPhone with them all the time allowing you to practice eye alignment anytime.
– Alignment is exact and perfect.
– It is inexpensive. You can't buy a mirror for $1.99!
– It only takes about 30 seconds to align your eyes using the app.
– You can use it every time before you play.
Try the iOver Golf App today!
View the video http://youtu.be/UHKwiT79K4k

https://itunes.apple.com/us/app/…/id555076579
This version of iOver Golf has been optimized for the iPhone 5. It also includes rate this app now functionality.
Price: $0.99 USD
Version: 1.02
Size: 17.43 MB
Seller: MEA Mobile Limited (MEA Mobile)
Released: 2012-08-31 23:54:46
Updated: 2013-02-14 01:59:39